Cloud Application Development
Harness the power of cloud computing to optimize your customer experience with fast, secure, scalable cloud solutions.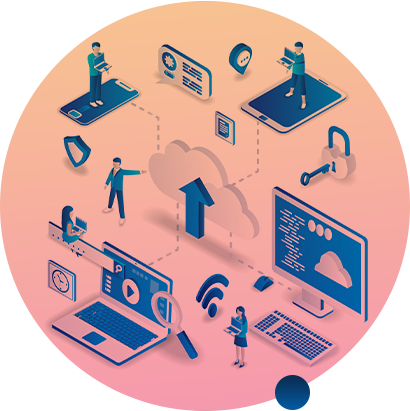 Home / Services / Cloud Application Development
AppleTech covers the entire spectrum of cloud development capabilities, helping our clients create a holistic strategy, migrate their applications and workloads to virtualized environments or refactor them for more efficient utilization of cloud-native services. Before starting any development or migration, we perform a thorough analysis of your current IT infrastructure, as well as build a clear roadmap to extract the desired level of cost efficiency and ensure that all your business-critical requirements are met.
AppleTech is a trusted partner to help guide your cloud journey. We help quickly create, launch and deliver your cloud strategy, new services and products. We incorporate the best of all the major cloud providers into a seamless experience for your customers, employees and other stakeholders. We reduce complexity, costs and operational challenges while modernizing.
We use leading-edge technology and the best of all private, public and hybrid cloud services for business-driving results, and our dedicated team of cloud-based app developers have the skills required for the job. Plus, you can get on-demand and self-service IT support for your cloud-based apps, including full-scope services such as efficiency audits, SLA management and oversight of all critical elements for your cloud-based business.
We Create Fully Connected Systems So You Can Focus On Your Business
We have a distinctive aptitude for developing cloud-based applications through an integrated approach that combines strategic business acumen with proven enterprise cloud technologies. This way, our clients streamline their business processes for effective and efficient use of innovative cloud service technologies. We offer secured, scalable and on-demand cloud computing solutions through our AWS enterprise level cloud services.
We build small & large-scale solutions, as well as server-side applications that take full advantage of the hardware offered by modern cloud providers, giving your users a steady and reliable experience across the globe.

Cloud Application Development
Cloud Application Development
We build, repurpose and integrate custom cloud-based applications aligning to your functional and non-functional requirements and drive.

Cloud Integration Services
Cloud Integration Services
We enable your in-house or cloud applications, processes, databases etc. to integrate with cloud services and EDI end-points like Office 365, web-storage accounts and 3rd Party products.

Cloud Consulting
Cloud Consulting
We understand your business requirements, existing application architecture and your needs to define a clear road-map towards delivering a cloud-based solution.

Cloud Analytics
Cloud Analytics
We provide enterprise-class security services to help you boost security and get an edge in the cloud environment.
FOUR SPHERES. ONE MISSION.
AppleTech empowers organizations with cloud application development services and enhances their transformation journey. Our unique cloud management strategies and industrialized solutions help firms from different domains quickly build, test, and deploy cloud apps.
Cloud Application Development FAQs
How long does a cloud-based app take to develop?
Though development timeframes for cloud-based apps frequently vary. One of the most crucial criteria, in our opinion, is the intricacy of app functionalities. For example, the solution schedule will be longer if the designers and developers take longer to implement the features. The easiest and quickest approach to learning about the length and dependencies is to contact us directly. While writing to us, please tell us about your objectives, desires, and more so that our staff can provide you with choices and timeframe possibilities.
How do you pick a cloud application development firm?
When looking for a successful relationship, keep the following in mind:
Execution Experience: Assess their type of work, the individuals they employ, and whether they've worked in your industry before.
Technical skills and abilities: You must assess their expertise with technologies as well as cloud-specific talents across Amazon Web Services, Microsoft Azure, and other cloud platforms.
Business Focus Understanding: Check the partner's procedures for evaluating business requirements and collaborating with customers to build technological solutions strategically.
Transparency: Choose partners who are open about their procedures, milestones, and deliverables. Also, keep everyone updated on the progression.
How much does cloud app development cost?
The cost of cloud app development is determined by various factors, including the development platform, category, app complexity, developer nation, and the number of features you want. To obtain a project development cost, please contact us with your requirements.
What advantages does outsourcing cloud computing services provide?
Here are a few of the major advantages of outsourcing your cloud computing services to India:
Low development and operating costs
Flexibility to work according to your time zone
Access to expert developers
Shorter development periods
Guaranteed quality services
Cutting-edge technology
What apps can you run on the cloud?
Technically, any sort of application can run on the cloud. But that does not mean it is a good idea. Certain applications, particularly those containing sensitive client data, are not suitable for cloud deployment due to regulatory and compliance considerations.
Is it possible to migrate apps from one cloud to another?
Yes, you may migrate apps from one cloud to another. However, it may not be simple. Standard-based technologies are the method used by cloud vendors to ensure interoperability.
How can I ensure that my data is secure?
It is always a matter of concern to know the safety of your data as there is a risk of your data falling into wrong hands. Before signing up with a cloud vendor, you should ask them about their data security procedures, go through their SLAs, and make sure they can encrypt data both in transit and at rest.
Office
A-FF/02 Mayfair Corporate Park
Vadodara, Gujarat
India
Call Us
India: (+91)-972-572-1717
USA: (+1)-203-987-2021