Mobile App Development
Going mobile will help your business streamline operations, bring value to the demanding modern customers. Whether it is your first app or fifth, our decade-long expertise in mobile app development will help you succeed with your mobile strategy.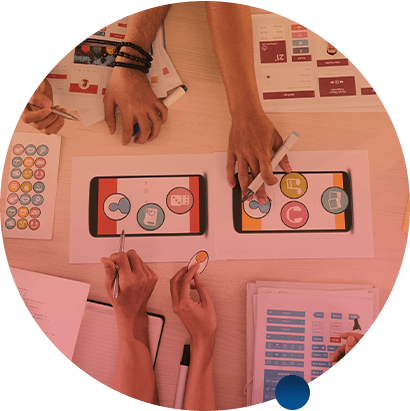 Home / Services / Mobile App Development
mobile application development company india
With the ever increasing popularity of smartphones and tablets, mobile application development has entered its golden epoch.
People spend more time on their smartphones than their computer screens. Thus, it becomes critical for any business to provide convenience to their customers, enhance efficiencies and user experience by streamlining access to the company's essential features, products or services for the customers at the touch of a button through mobile applications.
App Design and Planning
At AppleTech, we specialize in building native and hybrid mobile apps in Android and iOS.
Our approach includes development using agile methodology and rigorous testing, with post-launch support.
All our Mobile Apps provide highly immersive experience and follow a stream-lined design.
We have even developed award-winning mobile apps for the city and state governments.
Development
Harness the power of mobile-first world with our end-to-end custom app development service offering, from concept to market-ready product.
AppleTech offers expertise in mobile app development by building your cross-platform mobile applications that seamlessly work across devices or platforms. As a custom mobile application development company, we provide secure, scalable and sustainable solutions to our valued clients ranging from Startups, Small and Medium to Large Enterprises.
Android
Over 85% of smartphones in the world use Android as their Operating system. Thus,having a proficient Android app becomes very important for any company or start-up to reach the maximum possible customers.
We have a proud record in making dynamic Android Apps. Some of our projects include Practeaz, LoveMySkool, Smart AnganWadi, My Vadodara Smart city App among others.
iOS
Apple being one of the top brands in the world brings your app into the space of dedicated users. The power of Swift in terms of security and reliability is incomparable.
Our Swift developers build and integrate your app with the latest features of iOS keeping you ahead of your fellow rivals.
Some of our accomplishments in iOS app development include G&C Mutual Bank, LoveMySkool, My Vadodara Smart city App among others.
Reach out to us to help ideate, design and develop your custom mobile solution.
We Create Fully Connected Systems So You Can Focus On Your Business
AppleTech is an experienced mobile app development company with a proven track record of delivering effective project management and flexible delivery models to create intuitive mobile apps that help businesses in increasing efficiency and engaging with end-users in an agile manner.
We strive hard to meet our customer expectations, be it native iOS, Android app, or Hybrid app.

iOS Application Development
iOS Application Development
Leverage our rich expertise in iOS app development to build beautiful, engaging, and secure apps for your industry, regardless of complexity. Our future-forward development services ensure that your iOS apps are quality tested for perfection.

Hybrid Application Development
Hybrid Application Development
Make your software available to your clients and customers on their choice of platform. AppleTech helps your business create robust applications that will bring consistent functionality and deliver an intuitive UI/UX on any device.

Android Application Development
Android Application Development
Whether you a need an app for an android smartphone, wearable, or TV, we help you build high performance, effective and highly reliable custom android apps that work on every device regardless of brand and your industry of operation.

Native Application Development
Native Application Development
Drive superior app performance across iOS and Android platforms. AppleTech helps leading enterprises, SMBs, and startups elevate their operations with secure, robust and scalable native application development services.
We provide comprehensive End-to-end software migration services including migration strategy planning, data extraction, cleansing, loading, verification, testing and implementation.
We even perform various migrations for applications, systems, databases, storage devices, websites, blogs, e-mail, servers, operating systems, architectures, user interfaces(UI), and more. Our software migration services cover the entire spectrum of modern technology needs, including upgrades from legacy apps and systems, cloud migration services, virtualization of networks, storage, servers, applications. System infrastructure, desktops and more including emulation programming.
We do have a detail assessment which includes Application Rationalization, Inventory Identification, Migration Strategy and Roadmap definition along with planning, Data Migration and Testing and support services.
AppleTech will be the perfect choice for you if are thinking of migrating your software application to a newer technology or platform or if you are contemplating to web-enable or cloud-enable your software application system.
FOUR SPHERES. ONE MISSION.
You are at the right place to Hire Dedicated Resources for all sorts of web and mobile application developments.
We assure that every resource used will be dedicated to client's business. So far, hiring dedicated resources at AppleTech has been the right decision for our clients.
Mobile App Development FAQs
What are the different types of mobile apps?
When it comes to the technology used to create mobile apps, there are three primary types: native apps, hybrid apps, and web-based mobile apps like progressive web apps (PWA).
What programming languages and technologies are used for mobile app development?
For iOS app development, we use Objective-C and Swift, while for Android app development, we use Java and Kotlin. We use Flutter, React Native, and Ionic for cross-platform app development.
What are the advantages of hiring a mobile app developer?
Here are a few of the major advantages of outsourcing your mobile app development to India:
Low development and operational costs
Work from anywhere in the world
Access to expert developers
Shorter development periods
Guaranteed quality services
Cutting-edge technology
A better grasp of various platforms
What does it cost to create a mobile application?
The cost of developing a mobile app is determined by various factors, including the development platform, app categories, app complexity, developer nation, and the number of features you require in your app. Please contact us with your requirements to obtain an estimate for app development.
How long does it take to build a mobile app?
The length of time it takes to develop a mobile app is determined by several factors, including the development platform, design complexity, developer expertise level, features and functionality, testing, and so on. Please contact us with your request for a time estimate.
I am a non-technical individual who wants to create an app. How can you assist me in developing the app?
Simply send us an email with your ideas, and our sales staff will assist you in elaborating your app needs and flow based on the requirement, which will be followed up during app development.
What is the difference between cross-platform and native app development?
We utilize the default language and IDE for both Android and iOS in native application development, namely JAVA/Kotlin with Android Studio for Android and Objective C, and Swift with Xcode for iOS.
Cross-platform is a framework that allows you to code once and delivers your program to iOS and Android.