Product Development
AppleTech offers an intuitive, data and design-led software product development service to accelerate your innovative software product creation.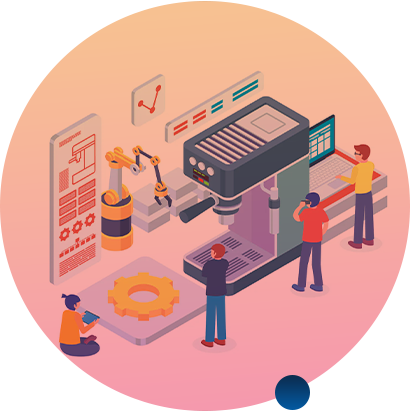 Home / Services / Product Development
product development services
AppleTech offers innovative engineering for developing new products and modernizing matured products at high velocity while achieving high quality standards. As a SaaS Product Development Company focused on agile software product development, we minimize design cycle times to expedite go-to-market implementation. We deploy cost-effective best practices in product architecture and development, to assure our clients proactively address customer demands and expectations.
A large part of the development of any product is the strategy. We collaborate from the start to identify opportunities and develop concepts, helping to shape your business strategy. We partner with you to identify the right-sized delivery strategy your customers truly need so that you can quickly obtain customer feedback.
Selecting the appropriate technology can often be an issue for businesses. With our technical expertise, we help you to select the right tools and platforms necessary to build an effective product. We manage the engagement, execute against the plan, build what's needed, and remain laser focused on your goal. We integrate our teams with yours in an agile methodology, working together with you through the sprint planning, testing, release, and retro.
Your product is unique, and we know that. We determine the right strategy (pilot, beta, user segment, etc.) for you and release. We'll address all your needs around migration, training, and change management. We directly address issues and feedback, enhancing and optimizing to ensure your customers are happy.
We Create Fully Connected Systems So You Can Focus On Your Business
Our approach to designing software product development solutions is defined by our endeavor to construct innovative and transparent models that will self-fund transition costs over the contract timelines and commit to the same.
We offer end-to-end support to software vendors to build quality software with robust, scalable, extensible architecture and deliver a Minimum Viable Product to get early market feedback on the value proposition of the product.

Prototyping & MVP Development
Prototyping & MVP Development
Discover, identify, and outline product specific demands by creating prototype utilizing our prototyping approach and MVP development service.

Product Development
Product Development
We offer end-to-end software product development services using multiple developments and operational methodologies like SCRUM, Agile, DevOps, Waterfall and Prototyping.

Product Architecture Design
Product Architecture Design
We delve deep into each product architectural layer and derive insights to add competitive value to your business and intellectually translating the needs into product features.

Product Testing
Product Testing
We abide by strict quality analysis from Validation, Functional, Performance, Smoke and UAT testing to assure the developed product is stable, scalable and secure.
FOUR SPHERES. ONE MISSION.
Get the perfect balance in juggling the need for faster time-to-market and staying up-front in technology landscape with custom software product development. Free your in-house resources and access the expertise of AppleTech to handle the evolution of your product. Our self-managed Product Development Services is a mix of superior product evolution and timeliness.