Flutter App Development
The fastest way to develop beautiful iOS and Android apps with native performance: Flutter – Google's own UI building framework – will help you save cost, time and effort.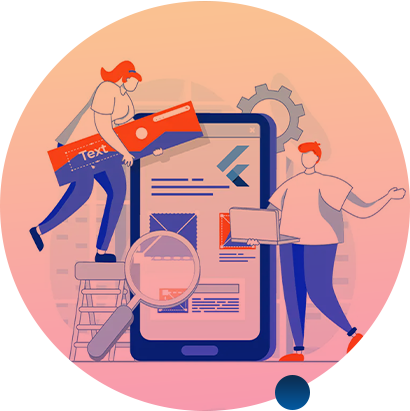 Home / Technology / Flutter App Development
Flutter App Development
AppleTech offers next gen app development services using Google's revolutionary framework, Flutter. We use the SDK's native end-user experience, expressiveness, flexible UI, and a lightning-fast load speed to ensure that your application becomes the symbol of cross-platform excellence
Our Flutter app development services are built on the best of the framework's offerings which extend beyond cost benefits and carry innovation & user experience at the center of it. Irrespective of which platform your app is being used on, our process guarantees zero platform differences.
Cross-platform & Native App Development
Our Flutter developers have a comprehensive app building experience to develop secure, scalable and top-notch web and mobile apps on Android and iOS to ensure high performance and satisfying user experience.
Flutter offers flexibility for native app-like performance. Our Flutter developers have the expertise to quickly integrate native features of local devices to get the look and feel of a native app.
Flutter App Design
Flutter app development is all about deploying apps that are faster to design and robust. We can help you design Flutter apps that are easy to navigate and maintain while delighting your users with stunning UI and seamless UX.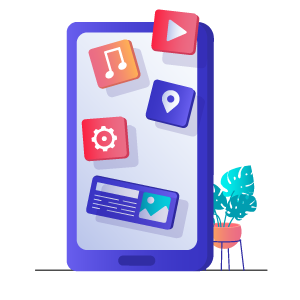 Flutter App Ideation & Consulting
Flutter app development has come a long way since its inception both in terms of framework maturity and use cases. We are a flutter app development agency that can help you validate your Flutter app idea and help you ensure that the framework is the best technical solution for your product idea.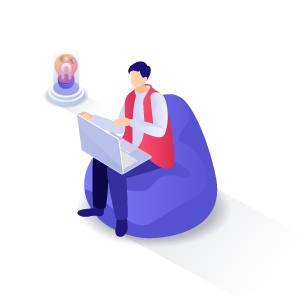 Flutter App Migration
We help you migrate your Android and iOS app development using Flutter. Our team of Flutter Android app development and deployment experts specializes in taking your existing application across platforms and operating systems.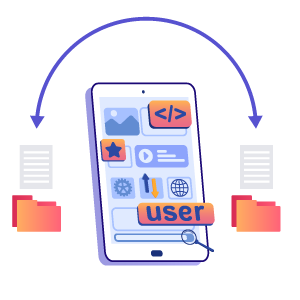 Why Should you Hire AppleTech for your Flutter Development Project?
1. Pixel Perfect Applications
The layered Flutter architecture makes it easier to render, creative and expressive designs. The focus-on iOS and end-user experience makes adds to better UI & UX
2. Supports Client Development
Dart the programming language that guides Flutter provides Hot Reload, which allows live edits on the code and while witnessing instant change in the apps
3. 15% Higher Performance
The layered Flutter architecture makes it easier to render, creative and expressive designs. The focus-on iOS and end-user experience makes adds to better UI & UX
4. Wider Device Compatibility
Flutter is spreading wings. It is growing on to suit more devices and application types like Chromebook, Mac, Windows, Embedded form factors, Web, etc
5. Superfast Development
Single codebase saves time on writing separate iOS or Android or any other codes. The feature rich widgets in Flutter bring everything at one place to make development easy.
6. Quick support & maintenance
Our team will help you with troubles of any complexity level by providing workarounds & Bug-fixes to a security audit and application enhancements.
7. Cross Platform App Development
We'll help you to embrace your mobile strategy stronger by building high-quality cross-platform mobile apps for both iOS and Android Platform.
Flutter App Development FAQs
Is Flutter suitable for creating mobile apps?
Flutter is a popular app development framework that has gained a lot of traction among developers all around the world. It offers everything you need to create solid mobile apps in a short amount of time.
Is Flutter a superior alternative to React Native?
Both Flutter and React Native have advantages and disadvantages. Flutter, on the other hand, emerged victorious, thanks to features such as rich widgets, high performance, and so on. Furthermore, according to several industry analysts, Flutter represents the future of mobile app development.
What are the advantages of hiring a Flutter app developer?
Here are key advantages of outsourcing your Flutter App development:
Low development and operational costs
Work in your preferred time zone
Access to skilled developers
Shorter development timeframes
Quality assurance
Cutting-edge technology
A better grasp of various platforms
What does it cost to develop a Flutter application?
The cost of developing a Flutter app is determined by a variety of factors, including the development platform, app categories, app complexity, developer nation, and the number of features you require. Please contact us with your requirements to obtain an estimate for app development.
How long does it take to create a complete Flutter app?
With Flutter's rapid and straightforward coding, an average app takes 3-4 weeks to produce for any Flutter development business that works on both iOS and Android. However, it normally takes a bit longer depending on the intricacy and features.
Is it possible for you to convert my current app to Flutter?
Yes, we're a fully prepared Hybrid App Development business with an experienced staff, technical competency, and a complete technology stack to quickly convert your existing app to Flutter and create a fully working native app.
Which businesses should look into Flutter mobile app development?
Flutter is a platform that allows developers to create high-performance, cross-platform apps with a consistent user experience. It is ideal for companies that want quick and dependable mobile app development. This framework is perfect for creating apps in the areas of healthcare, fitness, retail, education, finance, and travel.