Legacy System Migration
Seamless & Secure Migrations, Delivered.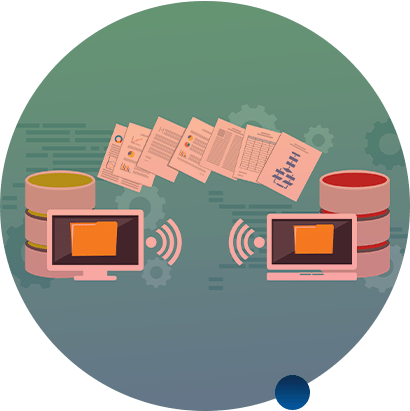 Home / Services / Legacy System Migration
Simplifying Your Transitions, One Legacy System Migration at a Time.
Our expert team specializes in seamless and secure migration of legacy systems to modern, cutting-edge platforms. Whether you are facing challenges with outdated software, hardware limitations, or data incompatibility, we have the expertise to address your unique needs.
With a proven track record of successful legacy system migrations, we ensure minimal disruptions to your operations while maximizing the benefits of the new technology landscape.

Cloud Migration Services
Cloud Migration Services
AppleTech's cloud migration services help reduce physical resource requirements, expenses and increase productivity. With proven methodologies and approaches, our services ensure hassle-free transformation from on premise to cloud.

Database Migration Services
Database Migration Services
AppleTech has completed hundreds of successful database migrations using a tested and trusted staged migration approach to mitigate risk, disruption, and downtime. When it comes to database migration, we have your back.

Server Migration Services
Server Migration Services
AppleTech has the experience of implementing several server migration solutions for BizTalk Server, Apache Web Server, Internet Information Services (IIS), .NET, Java & PHP frameworks, MoM, RPC, ORB, and more.

Enterprise Platform Migration Services
Enterprise Platform Migration Services
Moving to a new enterprise cloud platform requires a thorough approach and a knowledge of your current and new platform components. We offer rapid and reliable upgrades for legacy enterprise platforms for migrating all data and business logic to the new platform.
data migration service
AppleTech will take care of your entire migration process, from strategy to development, documents and content. Seamless, safe, secure migrations, designed and delivered. Migrating Legacy is hard. According to an estimate, around 50 percent of deployment effort is consumed by data migration activities. (salesforce.org)
There are various organizations out there in the market who has old and complex on-premise business CRM systems. But because there business models are out-dated, they decide to move to the new systems, which provides them low cost of maintenance and increases scalability and reliability. Today, there are plenty of cloud SaaS alternatives, which come with many benefits; pay as you go and to pay only for what you use.
We, at AppleTech helps clients to dispose away the outdated technologies and help in migrating applications from old systems to newer platforms and architectures. We propose solutions to permit seamless migration of applications from one environment to another, by addressing the issues wherein applications span multiple databases, languages and different systems.
AppleTech has a phenomenal record in optimizing the IT environments of various organizations, providing them high performance and cost effective environment. We have substantial experience in a wide variety of sectors and have a great understanding of the legacy and developing technology.
We provide comprehensive End-to-end software migration services including migration strategy planning, data extraction, cleansing, loading, verification, testing and implementation.
We even perform various migrations for applications, systems, databases, storage devices, websites, blogs, e-mail, servers, operating systems, architectures, user interfaces(UI), and more. Our software migration services cover the entire spectrum of modern technology needs, including upgrades from legacy apps and systems, cloud migration services, virtualization of networks, storage, servers, applications. System infrastructure, desktops and more including emulation programming.
We do have a detail assessment which includes Application Rationalization, Inventory Identification, Migration Strategy and Roadmap definition along with planning, Data Migration and Testing and support services.
AppleTech will be the perfect choice for you if are thinking of migrating your software application to a newer technology or platform or if you are contemplating to web-enable or cloud-enable your software application system.
Legacy System Migration FAQs
What is legacy system migration?
Legacy system migration refers to the process of upgrading or transitioning from outdated and obsolete software or hardware to modern, more efficient technology. It involves transferring data, functionalities, and processes from the legacy system to a new, advanced platform while ensuring minimal disruptions to business operations.
Why should I consider migrating from a legacy system?
Migrating from a legacy system offers several benefits, including improved system performance, enhanced security, and increased scalability. It enables your business to leverage the latest technologies, stay competitive, and adapt to changing business needs more effectively.
How long does a legacy system migration typically take?
The duration of a legacy system migration project varies depending on the complexity of the existing system, the volume of data, and the scope of the migration. While some migrations may take a few weeks, more extensive projects could span several months. Our team works closely with clients to provide a realistic timeline based on their specific requirements.
Will data be lost during the migration process?
Data loss is a concern during any migration process. However, our team follows a meticulous data migration strategy that includes comprehensive data validation and testing to minimize the risk of data loss. We prioritize data integrity and security to ensure a smooth and successful migration.
How do you ensure the compatibility of the new system with our existing workflows?
We conduct a thorough analysis of your existing workflows and business processes before the migration. Our team collaborates with your organization to customize the new system, ensuring it aligns seamlessly with your current workflows and meets your specific needs.
Will my team require training for the new system?
Yes, we provide comprehensive training to your team members to ensure a smooth transition to the new system. Our training sessions are tailored to your organization's requirements, enabling your staff to maximize productivity and proficiency with the upgraded technology.
How do you handle potential disruptions during the migration process?
Minimizing disruptions is a top priority during legacy system migration. Our team meticulously plans and executes the migration in phases, allowing for continuous monitoring and testing. We have contingency measures in place to address any unexpected issues that may arise, ensuring a seamless transition.
Is post-migration support included in your services?
Yes, we offer post-migration support to address any issues or concerns that may arise after the migration. Our support team is readily available to assist you in resolving any technical difficulties, ensuring a smooth transition and long-term success with the new system.
How can we get started with legacy system migration services?
Getting started is easy! Simply reach out to our team through the contact form or give us a call. We'll schedule a consultation to discuss your migration needs and develop a customized plan to address your specific requirements and business goals.
Is legacy system migration secure and compliant with data privacy regulations?
Absolutely. We prioritize data security and compliance throughout the migration process. Our team follows industry best practices and adheres to data privacy regulations to ensure that your sensitive information remains protected during and after the migration.