Job Description
Manage HubSpot CRM of multiple associates/companies under one roof and manage implementation and configuration of accounts.
Primary contact for all HubSpot CRM and Marketing Hub/Mode Analytics reporting requests, including creating and supporting all metrics and revenue reporting, ongoing Sales/Marketing Operations department KPI reporting, and ad hoc projects as needed.
Acts as the primary administrator of the HubSpot CRM and Marketing Hub database, including the creation and iterative improvements of workflows, custom fields, and data flow management processes for Sales and Marketing.
Develop department/role-specific Dashboards, Reports, Contact Lists, Notifications, and other routine tasks to support Sales Leadership in maintaining consistent team oversight.
Maintain an internal client database in HubSpot for all active/inactive clients with the appropriate industry categorization
Build workflows for Automation associated with Marketing and Sales processes.
Handle data in HubSpot Dashboards by developing reports, dashboards, and processes to continuously monitor data quality and integrity and execute data migration/cleansing projects.
Oversee user access and permissions within HubSpot, and work with sales/marketing leaders to determine appropriate user permissions, roles, and teams for all users.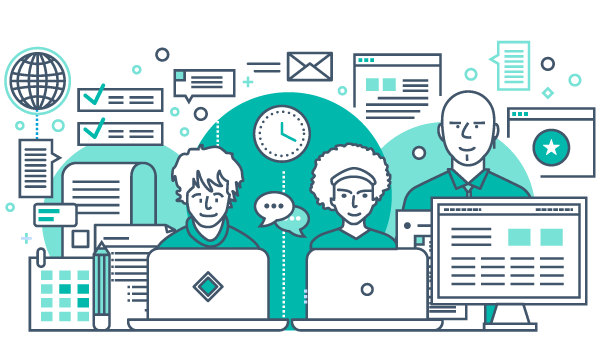 Profile Requirements
3+ years of experience in managing HubSpot CRM.
Must have experience in communicating with CXO people.
2+ years of experience in Sales, Business, or Marketing Operations, or a similar role.
Experience developing end-user reports using SQL would be a plus.
Strong data management abilities and must be excellent at time management, prioritization of tasks, and ability to meet deadlines.
Must have excellent written and verbal communication skills.
Ability to identify actionable insights through data analysis to support data-driven business decisions.
Highly self-motivated and should be able to work independently and in a team.
Perks & Benefits
We're looking for candidates who are passionate, creative, result-driven, and bring their best in their work. We also pride ourselves in hiring best IT talents across the world and non-techies including CAs.
Appraisals
The salary increment is done at least once a year and the out-performer receives hike even before completing 1 year.
Work Hard, Play Hard
We believe that hard work deserves party and we organize frequent lunches in restaurants and in-office treats.
Personal/Professional Growth
We provide employees with a professional spending that can be used for professional training, online courses.
Bonus
Hard work doesn't go unnoticed. Many of our employees earn more than 35% bonus of their actual annual CTC.
Work-life Balance
We allow flexi-timings and allow employees to leave early if the work is completed before the office hours.
Other Benefits
If you have other commitments at home or not feeling well, you can take pre-approval to work from home.
Our Office
We are a team of project managers, business analysts, programmers, quality analysts, and product managers. We are an employee-owned company dedicated to developing desktop, web and mobile applications.